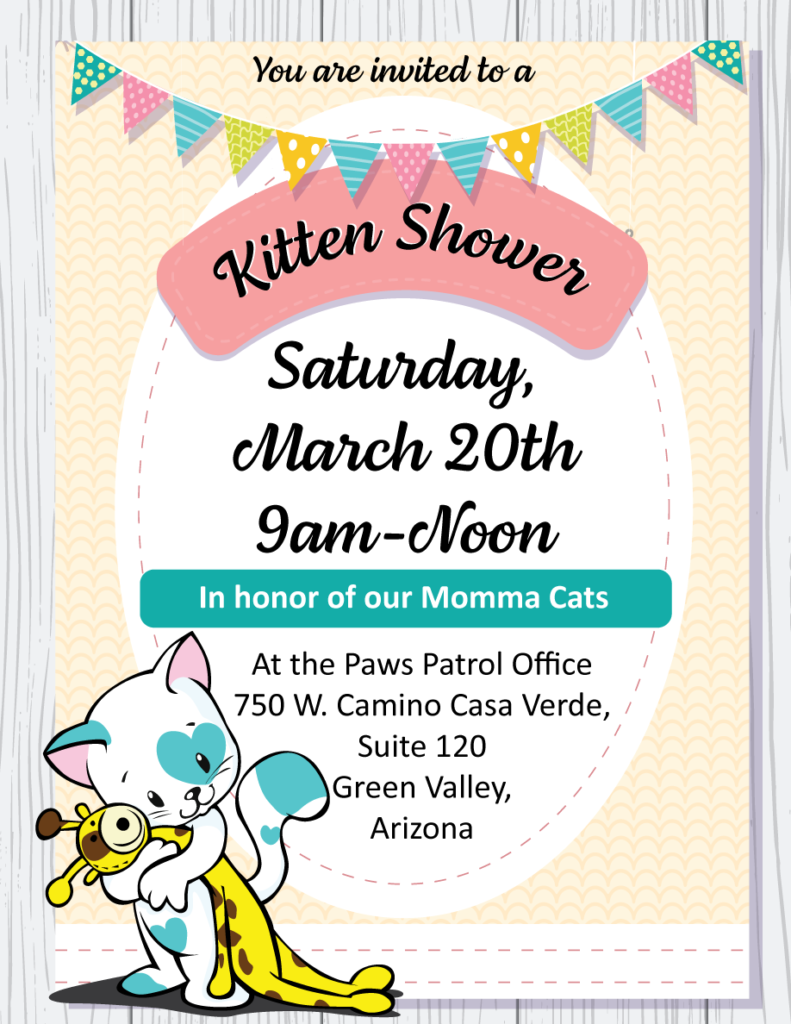 Paws Patrol is expecting kittens!
You can help Paws Patrol prepare for kitten season by bringing in a gift for our litters on 
the

way!
Our kitten shower will take place on
Saturday, March 20 from 9 am until noon
at our Office next to Green Valley Plumbing.
Drop off any kitten gifts during this time.
Gifts Needed:
Petco, PetSmart, Walmart and Chewy Gift Cards.
Fancy Feast Can Kitten
Royal Canin Feline Health Nutrition Dry Cat Food for Young Kittens
World's Best Multi-Cat Unscented Clumping Corn Cat Litter – Red Bag
Yesterday's News Softer Texture Unscented Non-Clumping Paper Cat Litter
Teaser Toys
Feather Wands
New Plush Toys
Fleece Blankets
Bleach
Paper Towels
Paws Patrol is also looking for new volunteers who are experienced bottle-feeding kitten fosters. If you are interested, fill out our volunteer application.
Also, stick around and browse our Craft Fair for one-of-kind gifts! All items made by local artisans.
All sales are to help with veterinary expenses. Social distancing and masks required.