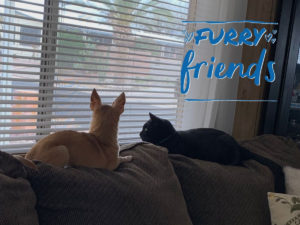 I am 62 and a widow. I had two Chihuahuas that my late husband and now grown children had raised for more than fourteen years. Their names were Dobi and Shelbi, and they had been raised together since birth. Those cuties were loved like children.
In August 2019, Dobi became ill. All our efforts, medicine, etc. couldn't save him. Dobi and Shelbi had become soul mates over the years. As they got older together, Dobi would wake up and groom Shelbi by licking her ears and neck every day. She knew something was wrong when Dobi became ill.
The day I came home without Dobi, Shelbi was lost. She would roam around the house looking for him. Eventually she stopped eating and then I realized, I am going to lose her too! I was getting desperate!
Then a friend showed me an article in our neighborhood newsletter about a two-year old rescue cat being fostered for Paws Patrol that was just as desperate to find love and a permanent home.
I went over and met Shade at her foster parents' home, and she and I really hit it off.
Now the big question: How would Shelbi react to a new member in the household? Shelbi, my tiny Chihuahua, is about 70 years old in people years and never knew a cat — especially a two-year old cat.
To see what would happen, I brought Shade home. She is twice the size of Shelbi and probably never met a tiny elderly dog either. They were cautious with one another, but it was obvious they were both very interested in the other. Within two days, Shelbi was back eating again — thank you Shade! — and Shade was very happy too. It was awesome to watch their relationship grow over the next six months.
They play together but on Shelbi's terms because of her age. They both sleep with me at night. They hang out on the couch and look out the window together. The final hurrah was when I saw Shade, the cat, groom and lick Shelbi's ears just like Dobi used to. My heart melted.
Shade saved not only my Shelbi, she also saved me. I have so much fun watching them together. My heart is full.
PLEASE rescue a pet, especially NOW! There are so many benefits of caring for an animal. They truly can uplift your spirits and your home.
Trish
Our Light was Found with Shade